Can You Lease The Volvo XC40 Pure Electric?
Volvo XC40 Electric Recharge Lease Deals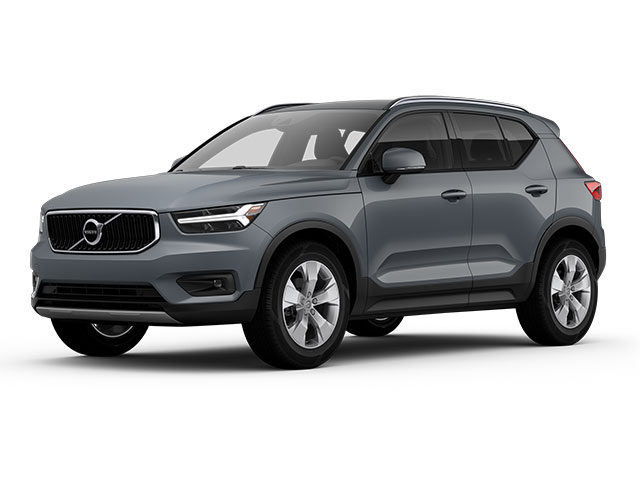 Leasing at
/Month
Per month plus tax for months.*
Due at Signing | $0 Security Deposit

Ever since its unveiling in October of 2019, the Volvo XC40 Pure Electric vehicle has been one of the biggest talking points of the automotive industry. Volvo Cars, in their attempt to reduce CO2 emissions per car by 40% between now and 2025, has now started selling their very first fully-electric SUV. And, you can get your very own Volvo XC40 electric SUV for sale here. Not only that, but we're ready to be one of the first dealerships to offer incredible Volvo XC40 Electric lease offers, too. While Volvo Cars hasn't yet officially rolled out the numbers for their Volvo XC40 Pure Electric lease specials, we're going to be ready for whenever they do. So, the moment that they're available, you can get your Volvo XC40 Pure Electric lease deals with us.
Get More Details
Does the Volvo XC40 Pure Electric Offer Multiple Trims?
So, before you get one of our Volvo XC40 Pure Electric lease deals, let's take a look at what we know about this SUV. Unlike other Volvo vehicle models, the Volvo XC40 Pure Electric only offers the base R-Design vehicle without additional trims. But, when you have a car as revolutionary as this one is, who needs extra?
More trims would also mean more production time, which would cause more emissions to be pumped into the atmosphere. So, even by offering just one trim, they're doing a lot of good. Getting a Volvo XC40 Recharge Electric lease with us means that you're helping Volvo Cars' sustainability efforts and getting a car that you'll fall in love with on every drive.
Grubbs Volvo Cars Can Ship To You!
As a brand new and very sought-after electric vehicle, the Volvo XC40 Recharge has extremely limited availability nationwide. The good news is that not only does Grubbs Volvo Cars have these amazing SUVs available, but we are also able to ship these cars out to our customers. And, this shipping doesn't only apply to Texas drivers! Grubbs Volvo Cars can ship cars out of state!
So, if you are dying to get your hands on the innovative Volvo XC40 Pure Electric SUV, please contact us today. Our premier Volvo dealership has many years of experience leasing and selling vehicles to other states. We are confident that we can ship a vehicle out to you as well.
Our team is proud to offer nationwide shipping. Our average fee is around $500, but there are several instances in which we can ship your car to you for free! That's right. A brand-new Volvo vehicle shipped right to you for free!
If you are ready to drive the latest and greatest Volvo SUV, please feel free to reach out to our dealership today. You can contact us via phone, email, or by using our simple contact form on our website. Let one of our Volvo Cars specialists know where you are located, and we will let you know if we can ship a Volvo XC40 Recharge to you. From there, our team will estimate the cost and get started on getting a car to your driveway.
Sustaining Safety
Several years ago, Volvo Cars made their safety suite a standard feature across all models -- hybrid, electric, and gasoline alike. So, when you get one of the Volvo XC40 Pure Electric lease deals, know that Volvo Cars isn't just making the environment more sustainable; it's sustaining your safety on the road, as well. The four HD cameras give you a 360° view of your car, keeping you protected even while you're still in park. Their safety assistance technology can help you detect and avoid collisions with pedestrians and other vehicles on the road during the day and night. And, the Blind Spot Information system will envelop you in protection no matter how heavy the traffic near Dallas gets, and you know how intense it can be.
Designing the Future
The Volvo XC40 Pure Electric SUV has a singular design that lets her stand out for the right reasons. You know this vehicle has a heart that bleeds for the environment, and her soft edges and smooth lines perfectly meld her purpose to her design. You can also choose from among eight gorgeous colors for your electric SUV. Go traditional with Black Stone, Crystal White Metallic, or Thunder Grey Metallic. Or, you can try something new with options like Sage Green Metallic, Bursting Blue Metallic, or Fusion Red Metallic. Each color offers a beautiful two-tone look, as the roof and bottom trim are painted in a glossy black finish.
FAQs About the Volvo XC40 Pure Electric Recharge
When is the Volvo XC40 Pure Electric release date?
Oh, how the time flies. This first-ever all-electric Volvo Cars SUV is already showing up at dealers all around the Dallas area, and she will continue rolling out on a more massive scale throughout January 2021. Call us to learn more about getting your very own pure electric vehicle from the iconic & Earth-saving Volvo Cars!
What is the range of the Volvo XC40 Electric?
According to Volvo Cars's website, you're going to get A LOT of mileage from this pure electric vehicle. The long range is estimated to be 200+ miles1 of pure electric euphoria. That's enough distance to race around Texas Motor Speedway's track a little over 133 times. Hello NASCAR, here we come! Gasoline-powered SUVs better watch their rear bumpers because this electric-powered car is making waves.
How to charge an XC40 pure electric SUV?
When you get a Volvo XC40 Pure Electric vehicle, you also get a 75kWh battery pack standard as part of your equipment. You can charge your Volvo XC40 Pure Electric at any DC (or direct current) fast charging or regular outlet, of which there are more than 78,000 nationwide. Your car will even help you find nearby charging stations, if need be. You can also charge at home when you plug your car into any 240-volt outlet. And, it will only take 40 minutes for your Volvo XC40 Pure Electric vehicle to charge to about 80%. That's way less time than you would spend in line at the gas station a day before a hurricane! Being able to charge your car at home really changes the game. So, get one and experience that change for yourself!
Step Into the Future at Grubbs Volvo Cars
If you want to lead the green initiative alongside Volvo Cars, get Volvo XC40 Pure Electric lease deals from us, or you can even check out our XC90 Hybrid lease deals to do some good, too. Electric vehicles are, unquestionably, the way of the future, so take that future into the palms of your hands right now by visiting us in Grapevine, TX. We can't wait to help you become a part of automotive history!
Reviews for Our Volvo XC40 Recharge
Local drivers tell our showroom staff members about chasing down fun near and far inside the versatile Volvo XC40 Recharge. This persistent, peppy, and stylish luxury crossover is a blast to drive. Learn more about the Volvo crossover that relies on pure electric power at Grubbs Volvo Cars.
We have reviews from customers that truly enjoy going for it all behind the wheel of an intelligent SUV loaded with safety features. Here's what we hear inside our showroom about the energetic Volvo XC40 Recharge for sale.
If you have a review, we'd love to hear from you, too.
"I've never thought I would be looking for a Volvo as my primary transportation but Volvo's XC40 Pure Electric from all my research is a good alternative to Tesla. I visited Grubbs Volvo to check it out after the official release date. Unfortunately Grubbs Volvo didn't have any in stock neither did any of the other Volvo dealers in TX but the sales person (Mandy) was helpful and informed on the capabilities of the all electric XC40. The actual physical building is being constructed and sales team worked out of the Infiniti new cars building, I would say I was pleased with my experience even though I didn't get to test drive the SUV. The sales person was not pushy but did ask if I was interested in any other brands or models which was ok. I would recommend this NEW dealership to friends and family." 5 stars, review by Quinton O'Neal, 1/26/21
Leave A Review

1THIS IS NOT BASED ON EPA TESTING. 200-mile combined driving range rating based on EU WLTP testing under controlled conditions for a new vehicle. Your range will vary depending on driving conditions, how you drive and maintain your vehicle, battery-package/condition, and other factors.