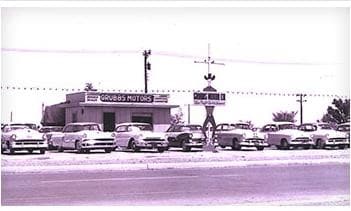 Why Buy From Grubbs Volvo Cars Grapevine
Thoughtful Amenities
Whether you are waiting for your vehicle to get serviced, picking up a part for your vehicle, or stopping by to check out a new vehicle for yourself, we offer a wide range of amenities to enhance your experience here! Come by, look around and check what we can offer you!
 THE DEALERSHIP YOU CAN COUNT ON!
The Grubbs Family has been involved in the automobile business since 1948 when Hubert Grubbs first sold used automobiles in front of his grocery store in Dallas. In the early 1950's Hubert went on to open a used car lot and then a new car dealership in Dallas.
George Grubbs soon followed in his father's footsteps after graduating from SMU. He and his wife, Jeanne, moved to Roswell, New Mexico, and built their own used and new car dealership. George firmly established what would become Grubbs Automotive. George believed anyone could sell a car, but to make his dealership truly stand apart and above the rest, he sought to completely satisfy his customers' needs. This "customer first" philosophy became our family tradition for years to come.
George and Jeanne's sons, George Jr. and Eric, literally grew up in the car business. The boys' first home was a trailer on the lot of their parents' dealership. When George Jr. and Eric were still young, their automotive careers began at the bottom-washing cars at their father's dealership. Through the years, George Jr. and Eric both worked in every department of the dealership holding positions in the service, parts, finance, pre-owned vehicle and new vehicle departments. Both graduated from SMU.
The earlier success of the Roswell dealership had enabled George Grubbs to purchase a larger dealership in Waco, Texas, in 1968. Then in 1971, George Grubbs, Jr. was chosen to open a brand-new dealership in Corpus Christi, Texas. Both dealerships were very successful in driving the "customer first" philosophy. They felt that their early success provided a firm foundation for the family to expand operations to the Dallas/ Fort Worth market.
Soon, the Grubbs sensed a shift in the marketing towards sporty new cars from Japan. This was a real milestone in the Grubbs family automotive history and marked the beginning of larger operations in Dallas and Fort Worth. George and George Jr. sold their respective dealerships to become partners in 1976 to build and operate a new dealership in Bedford, Texas. The Grubbs were chosen from a large number of applicants to be the dealer representative and within a few years their dealership went on to rival larger dealerships across America. With years of and continue success the dealership has undergone numerous remodeling expansions over the years with a complete update occurring in 2007.
In 1985, the Grubbs family added more franchises to the Bedford location, and again in 1999. That same year, they were chosen to open a separate dealership in Duncanville, Texas, and soon after added a third franchise to serve the southern Dallas market.
In 1989 the Grubbs family purchased a large dealership operation in Fort Worth which included a luxury franchise along with two other makes. Shortly after that they were chosen again to be the dealer representative for the brand new INFINITI franchise as a charter dealer and the first in Texas. George Grubbs Jr. took over sole ownership of GRUBBS INFINITI and in 1998 he moved it to Euless where he built the largest INFINITI dealership in the United States at the time.
George III, a graduate of Baylor University, is now the Executive Manager and a Partner of GRUBBS INFINITI. Like his father before him, he worked in every department of the dealership before assuming operational control of the dealership. Together with his team, George III has won numerous awards for customer satisfaction. George III is committed to carrying the family philosophy of the "customer first". The Grubbs family has owned many franchises together. George Grubbs, Jr. and George Grubbs, III serving together as owners of GRUBBS INFINITI and GRUBBS Volvo Cars in Grapevine, Texas. Over the last sixty years the Grubbs family has won multiple awards from each manufacturer for excellence in serving their customers and community. Additionally, George Grubbs, Jr. was a recipient of the Time Magazine Award for dealership excellence. GRUBBS Automotive has sold over 200,000 vehicles in the Dallas and Fort Worth area and continues to enjoy a reputation for integrity and family values.